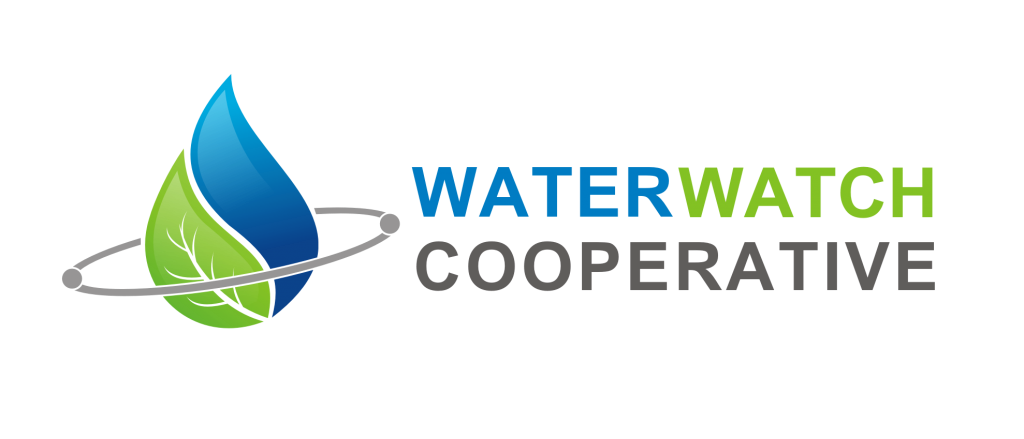 The Waterwatch Cooperative has a new, more modern logo, made by a designer who won a competition we started online. In the new branding, water and agriculture are balanced, which symbolizes the intertwining between both sectors.  The use of water and finding fertile land will be in competition in the future if we don't do anything. They can be balanced by developing and using new technologies. This corresponds to remote sensing technologies of the Waterwatch Cooperative that will contribute to the worldwide food security by making food production more sustainable. Also, the Waterwatch Cooperative aims to achieve a high food production while using less water ('more crop per drop'). The drop is encircled by a satellite orbit. The satellites screen the water volume and food reserves, which is exactly what the techniques of the Waterwatch Cooperative entail.
From 2015 onwards, the Waterwatch Cooperative has four Units that contain all the relevant knowlegde, actions and expertise that is needed for the main goal of the Cooperative; enable al stakeholders in food and water management with static satellite data to increase a sustainable food production.
The Waterwatch Foundation offers all stakeholders in food production, water management and environmental businesses more information about the condition of their lands and crops. Satellite data, climate data and real weather data of detailed areas of land surface will be combined in the Global Vegetation Database 3.0.Waterwatch Solutions will support application developers with software development kits and other tools. Furthermore, it will offer t he applications to the market in the app store. Waterwatch Investment Fund can offer financial support to the application developers and service providers which allows further growth of the company and the development of applications. Waterwatch Projects acts as a system integrator and project coordinator. Within the scope of water productivity and food security, the Projects unit oversees the course from policy making to the implementation.
With these different designs and , the Waterwatch Cooperative can indicate the different Units (Waterwatch Foundation, Waterwatch Solutions, Waterwatch Projects and Waterwatch Investment Fund) very easily. These will strenghten the image of the Waterwatch Cooperative overall and also the Units themselves will have a professional look.