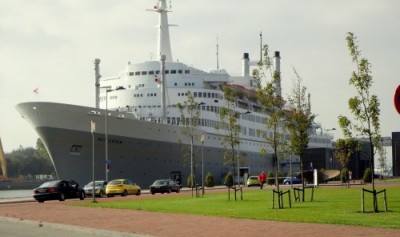 Leading into the Future
The Sustainable Food Lab's 2015 Summit is an opportunity to explore new challenges—emerging issues in the food system as well as the leadership required to engage across organizations, sectors and regions. All business must meet targets for operations and raw materials, and many NGOs are focused on business supply chains. Yet to ensure a reliable supply of raw materials and sustainable livelihoods many organizations are expanding their attention to sourcing regions. This is not beginner's territory. This scope expansion requires a new type of leadership and collaboration. "System leaders," as we have called them, are in high demand. In support of system leaders, the Food Lab Summit blends technical expertise, with organizational strategy, and personal leadership.
The Sustainable Food Lab Leadership Summit on the ss Rotterdam, in Rotterdam, The Netherlands, the week of June 7, 2015, will explore:
Collaborations in sourcing regions to achieve sustainable sourcing objectives;
Building from the gains made by roundtables and certifications towards larger shifts in commodity systems;
Engaging with farmers to co-design sustainability programs and make faster progress;
Taking a look at how corporate commitments such as zero-deforestation are achieved and what they mean;
Looking past codes of conduct to sustainable livelihoods (living wages and living incomes) in source regions.
These conversations are about solving problems rather than symptoms. Several years ago the focus of sustainability initiatives broadened from operations to supply chain. Now we see that the supply chain lens must broaden further to solve supply chain challenges of water risk, biodiversity impacts, and poverty.
2015-06-07 09:00
2015-06-07 17:00
Europe/Amsterdam
Annual Summit of the Sustainable Food Lab
Leading into the Future The Sustainable Food Lab's 2015 Summit is an opportunity to explore new challenges—emerging issues in the food system as well as the leadership required to engage across organizations, sectors and regions. All business must meet targets for operations and raw materials, and many NGOs are focused on business supply chains. Yet […]
ss Rotterdam
webbeheer@innopta.nl